Pretty good article from Men's Journal.
http://www.mensjournal.com/gear/cars/three-rows-one-champ-volvo-xc90-vs-audi-q7-20160304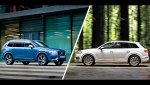 The days of being embarrassed ? or put to sleep ? by the family hauler are over. There's a battle under way to load the three-row crossover with the best tech, style, and performance, and for once the family man is coming out a winner.

Audi has taken a cautious route: The original Q7 came out in 2007, when nearly every luxury maker already had a crossover. It was an instant hit, and the Q7 and its spin-offs, the Q3 and Q5, now make up 40 percent of Audi sales. The next-generation Q7 took a decade to gestate, but it was worth the wait.

We drove the Q7 in high-dollar Dallas, where the aroma wafting from the nougat-brown leather seemed right at home in tony Highland Park. The Q7's front is suitably rich, with a bigger, blingier grille. Its profile, however, reveals a sloped-back roofline that echoes a more pedestrian crossover, and oversize, creased fender flares that wouldn't look out of place on a Subaru. All in all, it's a bit dowdy for an Audi.

But get it on the open road, and the Q7 performs a bit of magic. It drives smaller than the behemoth it is. While careering through Dallas, it was remarkably predictable, due in part to an adaptive air suspension that instantaneously reacts to loads on each corner. And all-wheel steering ? a first for SUVs and crossovers ? made for tighter turning radiuses. The two technologies are part of a $4,000 adaptive-chassis package that performs like an automotive version of Spanx: You don't feel fat at all.

Inside, a digital instrument panel displays maps on a 12.3-inch screen that's combined with a heads-up display so big you'll almost never need to turn your head. But the gadgetry isn't perfect. The gesture control pad (you wave your hand for certain functions) is useless for entering addresses for navigation. And camera-powered lane-keeping assistance ? which turns the wheel for you ? doesn't reduce your workload: The mental effort of steering is replaced by the mental effort of monitoring the self-steering system.

Volvo's 2016 XC90 is also a stellar refresh of a beloved SUV ? and a reboot of the brand. It's the first car built purely from Volvo parts since 2000, with no assistance from Ford. (Volvo was sold to China's Geely in 2010.) Ironically, the XC90 could only get more Swedish if Peter, Bj?rn, and John were driving.

Visually, its clean Nordic lines are apparent: A nearly vertical rear pillar and a flatter roof own the Volvo's 70-inch height. What's refreshing is that, unlike the Q7, the XC90 isn't trying to look like a car. Inside, the hushed interior reveals an equally straightforward aesthetic, where minimal controls are centered around a lag-free touchscreen. Our test model, the R-Design, has macho carbon fiber trim, but the Inscription edition comes with open-pore wood paneling worthy of a Scandinavian-modern ski lodge.

Apart from displaying a level of tastefulness, we've yet to see in interiors at any price, Volvo's plan for world domination includes smaller, smarter engines. The XC90 is powered by a super- and turbocharged four-cylinder. It doesn't save much in fuel economy (22 miles per gallon versus the more powerful Q7's 21) but cuts weight. If you have doubts about a four-cylinder engine in a loaded seven-seater, don't. Though slower than the Q7 on paper, we spent days effortlessly pulling into some of the hairiest merges in New York City ? with plenty of power.

The bottom line: The Audi Q7 delivers impressively Teutonic driving befitting a smaller machine, but the XC90 is a stylish people-hauler that's the total package ? and is nearly $5,000 cheaper, comparably equipped. It might be time to go Swedish.